Main Page
From GPVWC Wiki
Welcome to GPVWC Wiki,

your guide to the GPVWC simracing leagues.

1,267

articles in English

Upcoming Season:

Recent Seasons:



About GPVWC Wiki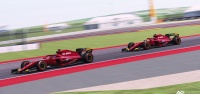 This wiki hosts information relating to the Grand Prix Virtual World Championship (GPVWC), a major simracing organization which runs a wide selection of virtual motorsport competitions. Founded in 2000, the league has constantly evolved since it's inception, at first offering cutting edge offline racing experience, which was then followed by a new era of online racing using the rFactor platform. The league offers competitors our unique team management and car development system, as well as great racing with a friendly and welcoming community.
For more information please check out the GPVWC website and our Beginners Guide.
Upcoming Events
Below is a list of GPVWC events scheduled for the coming weeks:
GPVWC Wiki News
Some of the latest developments on our wiki:
Wiki pages have been created and are in the continual process of being updated for all currently ongoing 2021 season series.
Selected Wiki Pages
Main Site Links